Inter College Talent Hunt Quiz Competition on general knowledge on Biological Sciences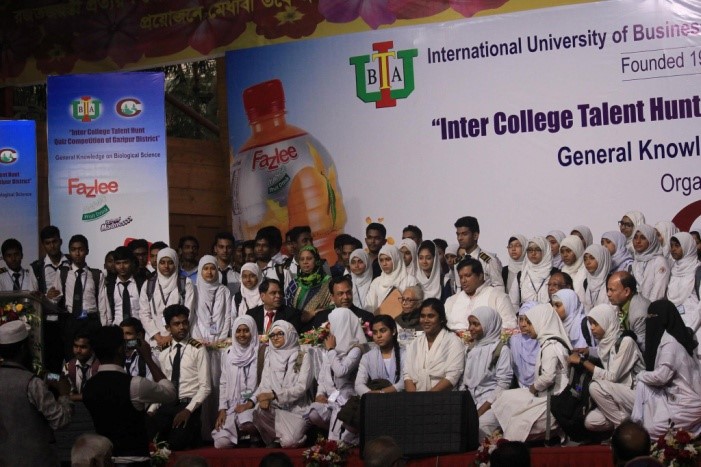 The Grand Finale and Prize Giviing Ceremony of the 'Inter College Talent Hunt Quiz Competition on general knowledge onBiological Sciences for HSC students of 9 selected Colleges of Gazipur district' was organized by the College of Agricultural Sciences (CAS) of IUBATon 4 February, 2017 in the Open Auditorium. In all, 231 students of selected colleges of Gazipur district registered.
The Chief Guest, Mr. Md. Zahid  Ahsan  Russel, MP  was very pleased with the arrangements  and stated that the quiz competition was an excellent effort which will encourage more students to receivehigher education in agricultural sciences to grow more food crops more efficiently. The MP was charmed by the natural beautification of the green IUBAT campus. Prof. Dr.AM Farooque of College of Agricultural Sciences, IUBAT and the former Vice-Chancellor of Sher-e-Bangla Agricultural University declared the names of the first, second and third winners of the competition, belonging to: Tongi Pilot High School and Colleges, and Gazipur City College. The sponsor of the prizes was Pran Beverages Ltd. The Prizes were (High quality Laptop 1st Prize, Smart Android Mobile Phone 2nd Prize and Smart Mobile Phone 3rd Prize) were distributed by the Chief  Guest, Special Guests and Guest of  Honour.In her presidential speech, Professor Mahmuda Khanum, the Honorable Acting Vice-Chancellor of the IUBAT University, offered valuable advice to the participating students to buildup their careers to serve the nation.