The objectives of the program are to:
produce marketable graduates and entrepreneurs
make students efficient in conducting extensive research in diverse fields of agriculture
inculcate professional and ethical values in the students
develop interpersonal and communication skills in the students
155 Credit Hours
9 Credit Hours of Practicum
12 Semesters Over 4 Years
Student advising and counselling
Course wise consultation hours
TA support
Hands on practice in labs and fields
Career development training
Workshops and seminars
Grooming
Extra Curricular Activities
Physical and recreational facilities
Indoor and outdoor sports.
Students Society .
Students engagement in various festivals and competitions.
English debates on contemporary issues.
The facilities of counseling and guidance are available to students under the leadership of qualified Clinical psychologist.
This service is provided under the Counseling and Guidance Centre of IUBAT.
Provide multidisciplinary professional consultancy to various categories of clients including public and private sectors.
Provide multidisciplinary and market oriented professional training to individual and professional groups of various organizations
Conduct basic and applied research on physical , biological, environmental and agricultural sciences
Invent and promote appropriate technology in agriculture, energy, engineering and various other disciplines
Contribute to HRD and community services in general more…
Alumni and Placement Services
Alumni and graduates assistance regarding career planning and employment.
Assistance in placement to students in their final semester for practicum work in real life organizations
Assistance in placement to graduate students in securing career employment.
We have an incubation center under the College of Agricultural Science for providing services to BSAg alumni and Freshmen students of BSAg program.
The mission the BSAg Program is to develop knowledgeable and professionally skilled manpower for the national and global agriculture sectors.
The minimum requirement for BSAg degree is completion of 155 credit hours plus such courses as recommended by the college after reviewing individual background. A semester is of 16 weeks duration, there are three semesters in a year and duration of the program is four years.
The BSAg Program curriculum has been developed by Faculty of Pennsylvania State University, USA reflecting local requirements and international standards. Detailed curriculum has been published in the IUBAT Bulletin. We have 16 Faculties and 400 students . Therefore teacher and student ratio is 1: 25 which is an optimum ratio.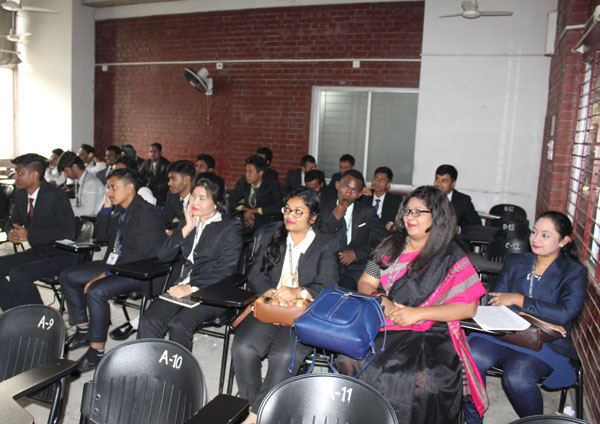 BSAg students in the class at IUBAT
Late Prof Dr M Alimullah Miyan planting tree
Study Tour and Field Trip
Study tours or field trips are arranged for courses as and when required. Students are taken to BAU, BSMRAU, SAU, BARI, BRRI, Farmers field at Gazipur and Savar and other places.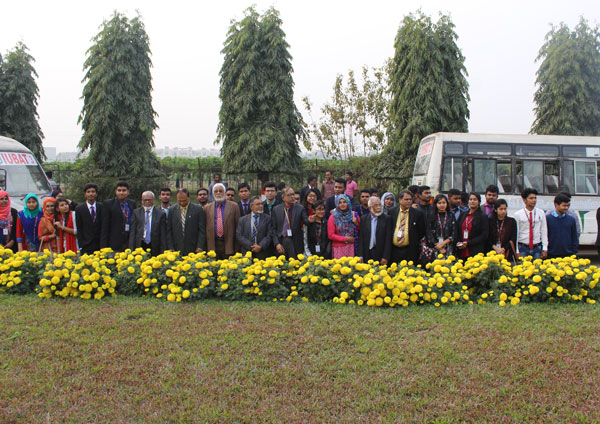 Faculty & students during field visit at BARI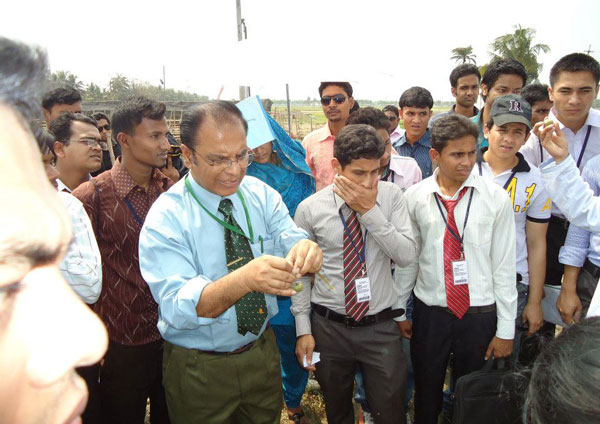 Seminar, Workshops & Professional Talks
IUBAT regularly organizes seminars, workshops and professional talks given by distinguished visiting and local academics and professionals to acquaint the university community with the latest development in the academic world as well as in practice.  So far, large numbers of seminars have been conducted in the university under various umbrellas and these have contributed to the creation of a knowledge related discourse in the university.  Such seminars and meetings are regular features of the university and the students can take full benefit of these programs for their personal and professional developments.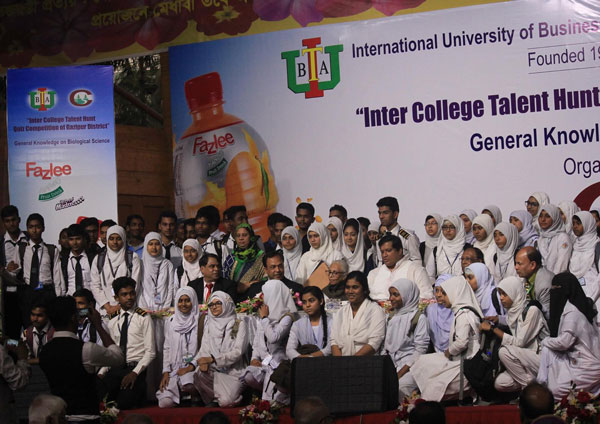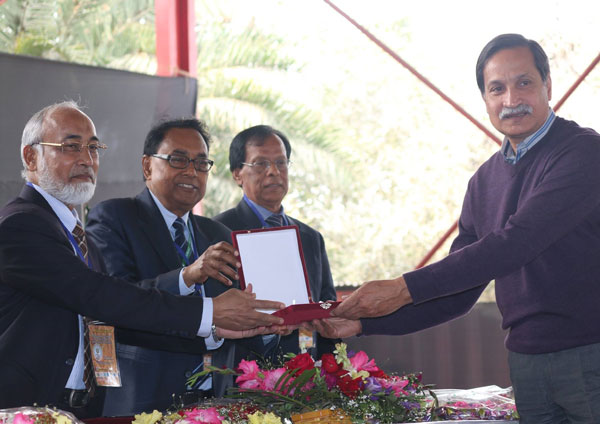 Seminar on Hybrid Wheat Production
Within the constraints of the tri-semester based education system involving year round academic activities, there are some opportunities for a cultural activities in the university.  Cultural evening is organized every semester as a part of the orientation program for freshmen.  Besides, cultural program is organized on 21st February to observe the Language Martyrs Day.
The convocation and other ceremonies are also followed by cultural performance mostly carried out by the students of the university.  The students have ample opportunities to participate in these cultural activities, convocation, university foundation day celebration and other ceremonies.
IUBAT Agriculture Society (IAS)
IUBAT Agriculture Society (IAS) was formed by students of the College of Agricultural Sciences (CAS) to promote academic and social goals of members with respect to promotion of knowledge and practice relating to agricultural sciences. The goals of IAS are to:
a) improve academic performances of the members,
b) develop good communication skills and understanding between the members,
c) develop individual image, morality and recognition of team spirit and
d) teach how to provide agro-based community development related services.
e) organize occasional recreational events to promote fellowship and recognize talents and leisure activities to support a healthy study environment,
f) organize study sessions and tutorials and
g) organize academic field trips.
The major functions of IAS are: organizing seminars, symposium, conducting help sessions, counseling, preparing and maintaining a database of potential employers, generating latest investigative reports and articles on agricultural field. To develop agro-based community, IAS has organized several informative session on plantation of Oil Palm and many spices; exhibition and agricultural fair, organic farming and sustainable agriculture.
Academic Support Services
Academic Support Service is geared towards providing assistance to students who need help in making the transition into an English medium university operated on a semester system of education, of which students have limited familiarity. The services offered include a special academic course, reading and tutorial assistance, counseling, referral, educational and cultural activities.  To facilitate the transition to this new environment, the university offers a   required course under the label of Educational Planning.  This   course helps students to adjust themselves to make full use of the university facilities for their personal development and achieving career goals with less psychological stress.
Career & Placement Services
The Placement Office of the university provides the students and graduates assistance regarding career planning and employment.  This basically takes two forms viz. assistance in placement to students in their final semester for practicum work in real life organizations and assistance in placement to graduate students in securing career employment. Student placement takes the form of providing assistance to students in short listed organizations that may be available for practicum work, providing support for placement of practicum and then ensuring smooth attachment of the student in the organization for successful completion of the practicum work.
Assistance in career placement takes various forms of services ranging from on campus interviewing with the employers to resume referral to employers seeking graduates for employment.  Most services are available for current students, but seniors or graduates can also register with this office prior to their graduation for assistance in career placement.  The university offers a course on career planning and guidance in which the students are trained in resume writing and critiquing, job search techniques and interviewing skills.  This course prepares the student to plan and approach career exploration.  Besides, the placement office provides individualized counseling on a limited basis on preparing job applications.