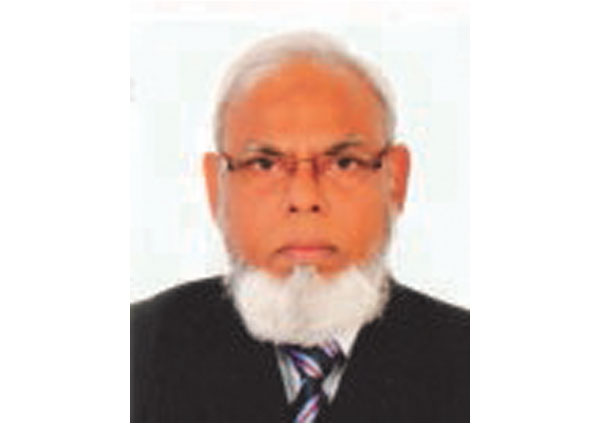 Dr. Md. Salim Ullah Khan Eusufzai
Professor
College of Agricultural Sciences
Cell: 01716967725
Email: dr.eusufzai@iubat.edu
Specialized: Farm Power Mechanics and Irrigation Technology
Dr. Md. Salim Ullah Khan Eusufzai is a Faculty of the College of agricultural Sciences (CAS) at IUBAT. Dr. Eusufzai awarded Ph.D degree in Irrigation and Drainage from Sindh Agriculture University, Tandojam, Pakistan in 1999. He completed MSc Ag.Engineering and BSc.Ag Engineering (Hons) degrees in Irrigation and Water Management 1992 and in 1978 respectively from Bangladesh Agricultural University, Mymensingh. Dr. Eusufzai joined as Assistant Plantation Officer at Carew and Company. Darsana, Chuadanga and in the same year joined as Assistant Agril.Engineer North Bengal Sugar Mill, Natore. Both the Sugar mills are under Bangladesh Sugar and Food Industries Corporation. In 1986 he was transferred to Sugarcane Research and Training Institute (SRTI) as Assistant Agril. Engineer.
There he served more than 28 years. From Asst. Engineer he promoted to Associate Agril. Engineer, Associate Agril.Egnineer (gr-1) equivalent to Principal Scientific Officer, Chief Scientific Officer and Director (Transfer of Technology). In 1989 Sugarcane Research and Training Institute renamed as Bangladesh Sugarcane Research Institute (BSRI) and further it is renamed as Bangladesh Sugarcrop Research Institute. This Institute is under control of Ministry of Agriculture from 1989. He was retired from service in the month of October 2014 from BSRI.
He served as a researcher more than 24 years and design and developed many agricultural machinery and Irrigation devices and technologies for sugarcane. He was awarded commendation certificate in the field of irrigation at North Bengal Sugar Mill. He served as Irrigation Engineer counterpart in the World Bank cell, Bangladesh Sugar and Food Industries Corporation. He worked as Project Director, Principal Investigator, Co-Principal Investigator, Deputy team leader in different foreign aided project and GoB projects from 1989 to till retirement. Worked as Project Director in the project entitled "Pilot project for extension of sugarcane cultivation in Chittagong hill districts" under sponsorship of Ministry of Chittagong hill tract Affairs, Bangladesh Government from November 2011 to October 2014.
Dr. Eusufzai has earned experience in Administration, Research Management, Planning and Technology Transfer. He has guided 4 (four) PhD students. He got many national and International training on Administrative and Financial Management, On farm water management, Crop modelling, Project planning, website design and Research related programmes. He has more than 46 national and international publications. He designed and developed more than 10 (ten) agricultural machinery and tools for sugarcane cultivation.
He is member of many professional organizations. Dr. Eusufzai joined as a Resource Person at CTRP Department in February 2016 at IUBAT and as Faculty of Agricultural Sciences (CAS) in the year 2017. Dr. Eusufzai loves teaching as well as research in the field of Agriculture.
Dr. Eusufzai belongs to a very reputed educated Muslim family of Kalihati Upozilla of Tangail District. But he has born in Mymensingh town and studied from School life to University at Mymensingh. He is married and has one son and one daughter.